The first public performance of Baseball Cycling occurred in June 2011 as part of the Common Boston festival.  The call for participation was as follows.
Come participate in an experimental urban exploration game called Baseball Cycling.  We'll bicycle through the city while listening to a live radio broadcast of the Red Sox-Dodgers game.  The events in the baseball game will determine our navigation decisions, as well as when and how we document the experience.  Documentation includes photography, video, drawing on paper, collecting small objects, and chalk drawing on sidewalks.  Anyone who can ride a bicycle and has rudimentary understanding of baseball is a capable participant.  We won't be riding fast, and we'll stop riding during every break between half-innings, so don't worry about tiring out.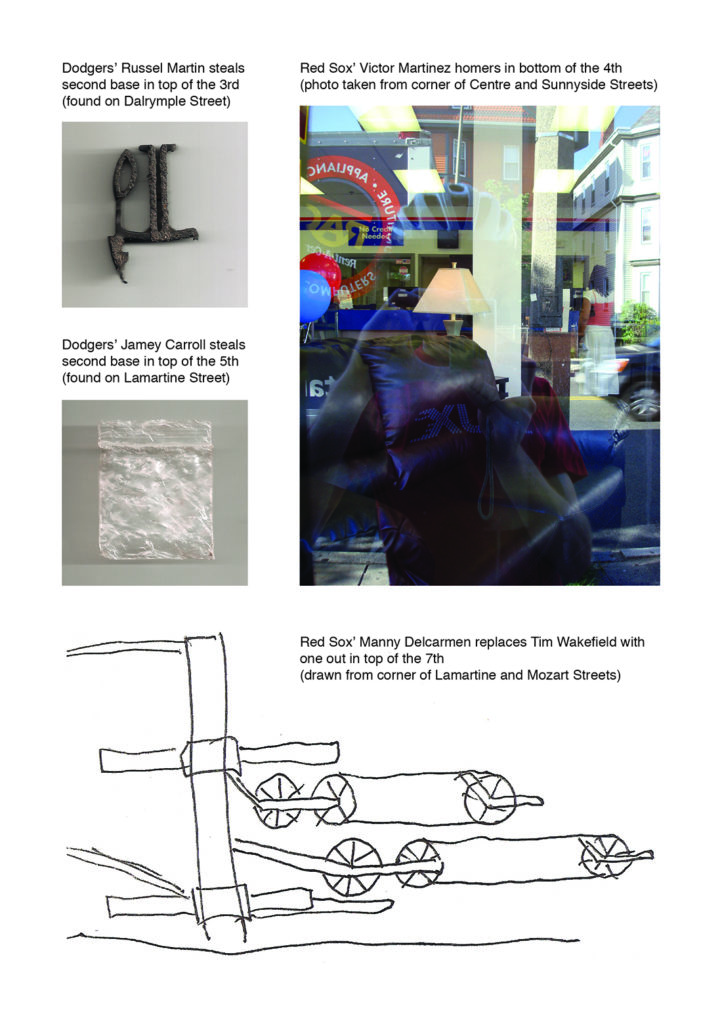 Baseball Cycling is an experimental urban exploration game.  Players ride bicycles through a city while listening to a live broadcast of a baseball game, and the events in the game determine all navigation decisions, as well as when and how the experience is documented.  Documentation includes drawing, photography, chalking sidewalks, and collecting found objects.
During Common Boston five adventurous cyclists participated in a game of Baseball Cycling, beginning at the Green Street T stop on the Orange Line in Jamaica Plain.  Listening to the Red Sox-Dodgers game on several portable stereos strapped to our bicycles, we meandered through JP while gathering documentation, noticing coincidences, interacting with curious bystanders, and rooting for the Sox.
A Victor Martinez homerun in the fourth inning produced an interesting photograph looking through a window of the Rent-a-Center on Centre Street.  Objects collected in response to stolen bases by the Dodgers included an eroded backpack clip from Dalrymple Street and an empty jewelry-sized Ziploc, or "dimebag," from Lamartine Street.  Manny Delcarmen replaced Tim Wakefield as the Red Sox' pitcher with one out in the seventh, prompting a drawing of a gear system above the Orange Line conduit along the Southwest Corridor Park.
On more than one occasion we rode along an edge of JP near the Roxbury border, perhaps only one strike away from leaving the neighborhood, but each time something conspired to keep us in.  While riding up Mozart Street near Jackson Square, Kevin Youkilis battled from an 0-2 count to a full count and finally knocked a base hit up the middle, instructing us to turn left onto Centre Street back towards JP Center.
Shortly thereafter a bizarre coincidence occurred.  While riding on Sunnyside Street, during a break in the action the radio announcer reminisced about the home movies his family made on their porch when he was a child.  At that very moment we passed a family on their porch making a home movie.  I almost plotzed!
The game ended in dramatic fashion with a walk-off single by Dustin Pedroia, marking the second consecutive game of Baseball Cycling to end in a walk-off win.
The rules to Baseball Cycling are subject to revision and supplementation each time it is played.  During this ride we decided to eliminate the task, "between half-innings: shoot a brief video," and replace it with, "find the nearest shade."  This was especially appropriate for this ride as the temperature was above ninety degrees.  We modified the 'caught stealing' task from, "write 'caught stealing' in chalk on the sidewalk," to, "write something in chalk on the sidewalk."   The ride also inspired a supplemental rule, to be enacted when a manager argues an umpire's call or a brawl occurs.  The instructions are to, "stage an argument with the other players (or if alone, mutter to yourself)."
I very much look forward to implementing these new rules for the next ride, and encountering new people, places, objects and oddities.  Here's to baseball and bike rides!  Go Sox!