NAME THAT SCHLOCK "2"
My collection of ambiguous objects is resurfacing this March 30th for a "Celebrity Edition," new-and-improved version of the Name That Schlock gameshow. Updates to the 2019 iteration include a spinning wheel, video projections, two dancers, and the aforementioned celebrity contestants. Come witness these expert improvisors make nonsense of 3D conundrums LIVE and IN PERSON. Maybe you'll end up joining the fun! The perplexing hilarity ensues at 8:30pm, Square Root in Roslindale.
NEW ALBUM-LENGTH SOUNDTRACK FOR A ZINE!
Musical genius and longtime collaborator, Ian Kovac Junior Junior, has released an entire album as a soundtrack for my zine, There Was Such a Long Line Around The Theater When Star Wars Came To Town. The music is available as a digital download now, and later some hard copy CDs may also be available. An excerpt from the four-panel insert for the CD explains, "This zine and soundtrack form a dramatized reenactment of the true story of Vasili Arkhipov, an unsung and outcast Soviet submarine officer who disobeyed orders thereby averting global nuclear annihilation during the Cuban Missile Crisis of 1962."
VIOLENCE TRANSFORMED GROUP SHOW AT PIANO CRAFT GALLERY
My recent zine, The Great Confluence, is included in an upcoming group exhibition, What's Going On, organized by the art and social justice organization, Violence Transformed. The opening reception is Friday, January 13th, from 6-9pm at Piano Craft Gallery, 793 Tremont Street in Boston. An eclectic mix of powerful works will be on display so don't miss it.
OLD WAVE AT SQUARE ROOT
A December show with Kraut masters, Nurse and Soldier, at a welcoming neighborhood hang spot. Surely a great time is in store for all! I made this special 11″ x 17″ poster for the occasion.
BOSTON ART BOOK FAIR
The Boston Art Book Fair is back and I'm a vendor, hawking my Can We Talk With Spirit Friends? collection of surreal zines and poster sets. The event is situated within the beautiful and unique Cyclorama building, Boston Center for the Arts, 539 Tremont Street in Boston's South End on Saturday 11/5 from 12-7 and Sunday 11/6 from 12-5. Come peruse the many fine offerings from art book presses small and large.
SPOOKY JAMS AT THE ANTI-CAPITALIST HAUNTED HOUSE
Another Halloween is upon us and this means another Anti-Capitalist Haunted House run by JP KidsArts at the First Church of Jamaica Plain. This year's theme is Welcome to the Metacurse: Like and Survive!
The Music as a Second Language Spooky Jams ensemble will be performing outside, creating a spooky spectacle for passersby and occupying those in queue for the fright within. Be there! Be afraid!
BOSTON HASSLE VALENTINES FLEA
Yet another Hassle Flea is nearly upon us and I'll be there, hawking my wares. Swing by the Middle East Nightclub in Cambridge on Sunday, February 13th from 12-6pm to say hi and buy. In addition to my zines, posters, postcards and trading cards, you can find all sorts of goodies for sale including vintage clothes, records, jewelry and more. Mask and proof of vaccination required for entry.
BOSTON HASSLE HOLIDAY FLEA
I have a table at the upcoming Boston Hassle Holiday Flea Market selling my surreal zines, posters and postcards, as well as my Women in Community Arts Trading Cards and other merchandise. I'll be alongside many other vendors with diverse offerings including clothes, records, jewelry, beauty products and more. Come get all your holiday shopping done in one cool spot, mingle, and support local artists! The Flea is this Sunday, December 12, noon-5pm at the Middle East Nightclub in Cambridge. Masks and proof of vaccination required for entry.
"SPOOKY JAMS" AT "THE FINAL FRONTFEAR"
Music As a Second Language is pleased to play at yet another Halloween event! This year marks the third annual Spooky Jams at the KidsArts Haunted House, and the sixth Spooky Jam Halloween event overall. What a tradition it is! Come enjoy being frightened and entertained at the same time, 6-9pm on Halloween night, 6 Eliot St in Jamaica Plain.
ART MARKET IN A GARDEN
I'm so happy and grateful to be back behind the table at art fairs! The next event is this Saturday, August 21 from 11am to 5pm in a lovely private garden in Jamaica Plain, 77 Child Street. I'll be selling some new and old zines and posters as well as the latest set of trading cards, alongside other vendors with various offerings including vintage clothes, pins, prints, records and more.
OLD WAVE – BOAT
Our "Cosmic Americana" family band, Old Wave, is releasing a long-awaited full-length album, BOAT, on Saturday, July 10th, and we're celebrating with a benefit show for the community art center, Spontaneous Celebrations in Jamaica Plain. The show is all-ages, outdoors in the wooded lot adjacent to the center, 54 Danforth Street near the Stony Brook T-stop, from 3-5pm, and features an opening set by local rad pop punksters, Ultra Chapelle. Come bliss out in the summer sunshine to the oh-so positive vibes of Old Wave!
We'll have a limited-edition CD for sale with a free digital download code, in advance of a cassette tape release in the near future. The digital album and cassettes feature extraordinary album art by JP's very own Andrew Leonard.
"UNCOMPRESSED" EXHIBITION
Our "Art For Friends Sake" video art production, Home Schlocking, is now on view at Rebecca Randall Bryan Art Gallery and various other locations at Coastal Carolina University in Conway, SC as part of their group show, Uncompressed. The 34 selected video artworks, which are also viewable online, are quite diverse and feature some very talented filmmakers and animators from throughout the country.
"OUR HEART" EXHIBITION
My The Mass of a Virus… series of 12 color posters is included in an upcoming group show, "Our HeART" at Humphreys Street Studios, 11-13 Humphreys Street in Dorchester. Opening April 24th, the "aim of this exhibit is to showcase work that drives you the way your heart powers your body."
"WHAT IS REAL?" EXHIBITION
Ten surreal picture books from my current ongoing series Can We Talk With Spirit Friends? are included in an upcoming group show, "What Is Real?" at The Real House, 147 Rugby Rd in Brooklyn, NY. The show, which opens May 7th, features artists "who work with or interpret the seemingly unanswerable question: WHAT IS REAL?"
"UNDER THE SAME FLAG" EXHIBITION
An oldie but goodie, my 13-panel artwork, Constitution Found Poetry, is included in an upcoming group show, "Under The Same Flag," at Project B Gallery at The Mill Contemporary Art, 2 Central St, Building #1 in Framingham. The show opens May 12th and features artworks that "address concepts of personal identity, immigration, borders, national identity, heritage, minority's rights, race, and other pressing contemporary issues."
"WE ZINE" EXHIBITION
My "tiny zine trilogy" deriving images in text "1929 Johnson Smith & Co. Catalogue: Surprising Novelties, Puzzles, Tricks, Jokegoods, Useful Articles, Etc." are included in a group show, "We Zine: Building Community Through Zines," curated by Abby Neale. The show opens May 25th at Fort Point Arts Community's Gallery at Atlantic Wharf, 290 Congress St in Boston.
TANDEM BIKE-IN FILM FEST
Our "Art For Friends Sake" Dada ode to consumerism, Home Schlocking, is screening at the "Tandem Bike-In Film Festival" on September 12. The event, which is a fundraiser for the arts-based after school and summer program, JP KidsArts, begins at 8pm on the lawn outside 6 Eliot Street in Jamaica Plain. Tickets are $10-$20, sliding scale. Masks and social distancing are required.
Although Home Schlocking has been viewed by audiences in a variety of contexts, this event marks the film's City of Boston public premiere!
THE MASS OF A VIRUS IS TO THE MASS OF AN AVERAGE MAN AS THE MASS OF AN AVERAGE MAN IS TO THE MASS OF EARTH
Three of the 12 posters in this recent surreal collage series have been accepted into an upcoming online exhibition organized by Piano Craft Gallery, "ROX/SE," featuring the artwork of artists that live, work, or have gallery representation in Roxbury or the South End. One of the posters (the last one, #12) will be included in an in-person exhibition (!) at Piano Craft Gallery, 793 Tremont Street in Boston, from September 4 to 27.
A PEOPLE'S GUIDE TO GREATER BOSTON
A design job I can feel good about, I created the maps for A People's Guide to Greater Boston, published by University of California Press, which "reveals the region's richness and vibrancy in ways that are neglected by traditional area guidebooks and obscured by many tourist destinations." The book includes thematic tours such as the "Malcolm & Martin Tour," the "Native Greater Boston Tour," and several others. Learn more about the book here.
MAYOR'S POETRY PROGRAM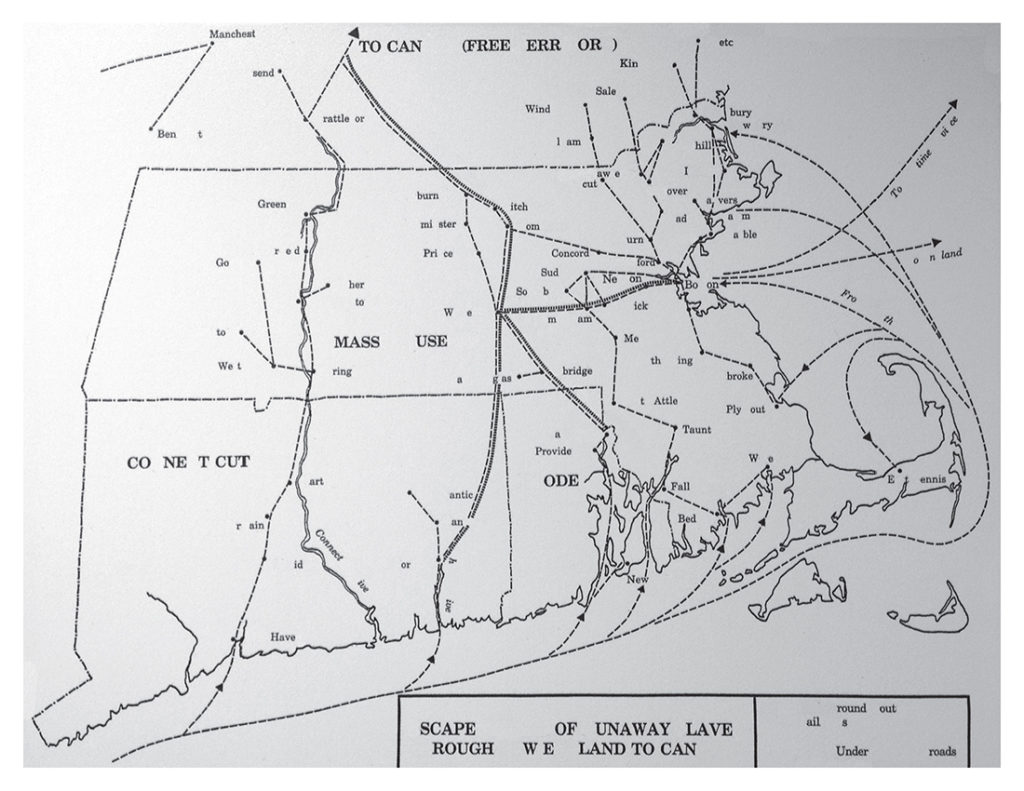 My concrete/found poem "Unaway Lave" was selected for inclusion in the Mayor's Poetry Program "Boston Futurism" exhibition at City Hall. A virtual reading was held on April 27th featuring a number of excellent poets, including Boston's Poet Laureate Porsha Olayiwola. An archive of the poems is available here.
Unaway Lave is an altered map of the 'Escape Routes of Runaway Slaves Through New England to Canada' along the Underground Railroad. The reader may chart their own escape routes through our unsustainable lifestyle and mindset.
Unwary Lave was first presented at the Energy Necklace environmental sculpture exhibition and poetry reading at Jackson Homestead in Newton, a stop on the Underground Railroad. Subsequently, it has appeared as an illustration for my article on Shadrach Minkins in the second This Month in Boston Counter-Cultural History Illustrated Calendar, which was later an exhibition at Boston Latin School; and as a digital projection display during the exhibition and conference "Visualizing for Justice – Creative, Critical and Contestational Mapping" at Emerson College.
TOUCHY FEELY
One of the 12 digital collages from my "Rules of the Game" series (#5) was selected for inclusion in Gallery 263's Touchy Feely virtual group exhibition. Look for it at the bottom of the Surrealist category.
MUSIC AS A SECOND LANGUAGE: MASTER IMPROVISER SERIES @ DAP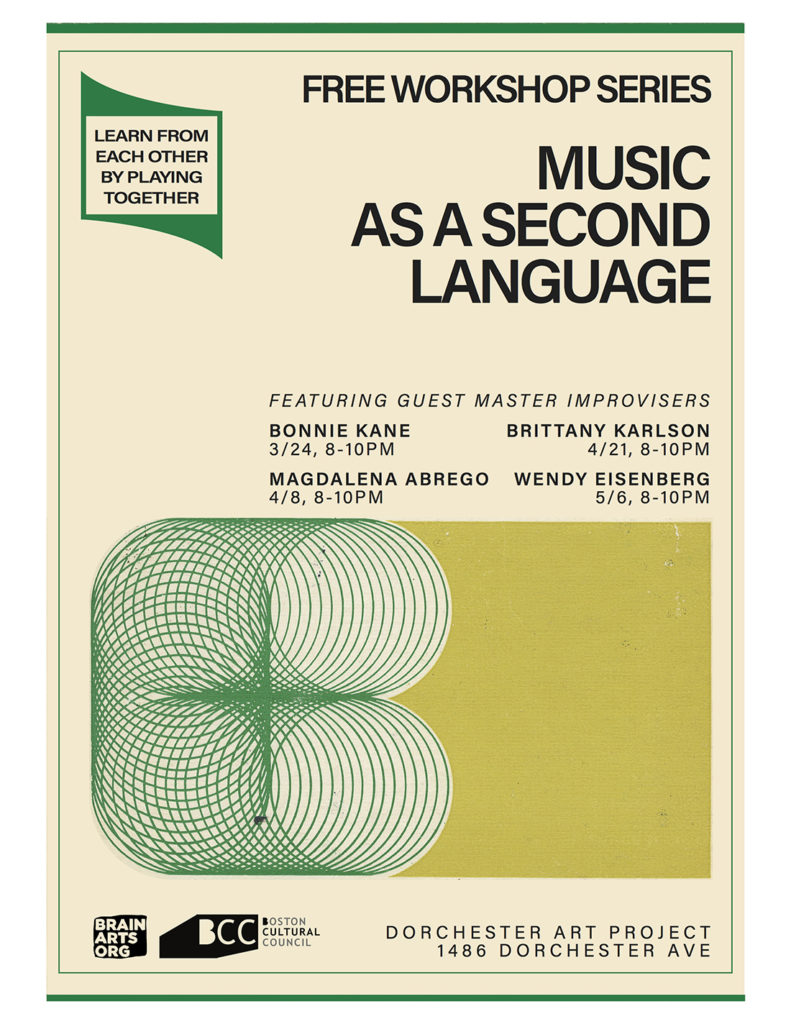 Thanks to a grant from the City of Boston's Opportunity Fund, MSL is continuing our series of workshops at Dorchester Art Project featuring "guest master improvisers." Our first spring session is Tuesday, March 24, 8-10pm, with Holyoke's experimental saxophonist and community artist, Bonnie Kane leading a session titled, "Improvisation: Why Even Do This?" Stay tuned for details about workshops in April and May featuring virtuosos Magdalena Abrego, Brittany Karlson, and Wendy Eisenberg.
For the third straight year I'll be performing in several "improv challenges" during the XFest festival of experimental music, movement and image. This year's event is Friday, March 6 to Sunday, March 8 at United Teen Equality Center (UTEC), 35 Warren St in Lowell, Massachusetts. In addition to the improv challenges, Music as a Second Language (MSL) is conducting a workshop, "XFest Etiquette: conversations and group musical experimentations related to listening, dynamics, supporting others, silence…," at 2pm on Saturday afternoon. Less is more, so I've heard.
STATING THE STATE OF THE STATE OF THE ART ARTS
The mess of a title for my new monthly column in our city's trusted alt rag, Boston Compass, where I interview the very best of artists in Boston to learn how they are able to devote time to their art practice while still surviving. For the March edition I interviewed revered weirdo Angela Sawyer. Look for the free newspaper at your local coffee, thrift, or record shop.
MUSIC AS A SECOND LANGUAGE (MSL)

MSL is embarking upon a new format featuring "guest master improvisers" as part of a music workshop series at Dorchester Art Project, 1486 Dorchester Ave, Dorchester.
• Sunday 10/27, 2-4pm, the venerable and downright frightening Andrea Pensado presents "Jumping In"
• Tuesday 11/12, 8-10pm, Boston's maximum oddball Angela Sawyer presents "How to Listen So Hard You Ruin Your Life"
• Tuesday 11/19, 8-10pm, electric noise mastermind Stephanie Germaine presents "Exploring Joy and Meaning Within Chaos"
These workshops are exceptional learning opportunities for anyone with an inkling towards musical experimentation – plus they're free to attend, thanks in part to a grant from the Boston Cultural Council, a local agency which is funded by the Mass Cultural Council, and administered by the Mayor's Office of Arts and Culture.
SPOOKY JAMS
MSL and friends are pleased to be performing spooky improvised music for trick-or-treaters on Halloween night from the porch of First Church in Jamaica Plain as part of Kids Arts' "Trickle Down or Treat" Anti-Capitalist Haunted House. The event also includes costume contests for kids and adults. A donation of $6/adult and $4/kid is suggested.
6:30-9pm, 6 Eliot Street, Jamaica Plain.
MANIFEST DISMANTLING
Also on Halloween night, our Art for Friends Sake video production Voyeuges, Episode III screens as part of "Manifest Dismantling," an exhibition of experimental moving image works on the topic of "Climate Collapse," curated by artists from the Mobius collective, Margaret Bellafiore and El Putnam. More works on the topic of "Borders" will be screened the following night.
6-8pm at Boston Cyberarts Gallery, 141 Green Street in Jamaica Plain, located in the Green St T station.
WOMEN IN COMMUNITY ARTS TRADING CARDS RELEASE PARTY
Please come meet some of the artists honored in the Elma Lewis 2018 Women in Community Arts Collectors Edition Trading Cards on Saturday, April 27th from 1:30-6pm at 40 South Street vintage store in Jamaica Plain. Imbibe, chat, buy a set or two of trading cards, have them autographed by the artists themselves, and score some sweet vintage gear on sale while you're at it – 20% off all clothes, 3rd item 50% off!
GAZZ JENRE
Our nearly impossible to pronounce experimental improv act Gazz Jenre performs a short set with movement artist Paul Kafka-Gibbons at the Salon for Experimental Sound and Image on Saturday, April 6th, 7-10pm, Mills Gallery, Boston Center for the Arts. This event, which features musicians and sound artists performing alongside live projections by video artists and animators, is being held in conjunction with the exhibition The Skin Has Eyes: Animated Visions curated by Maya Erdelyi.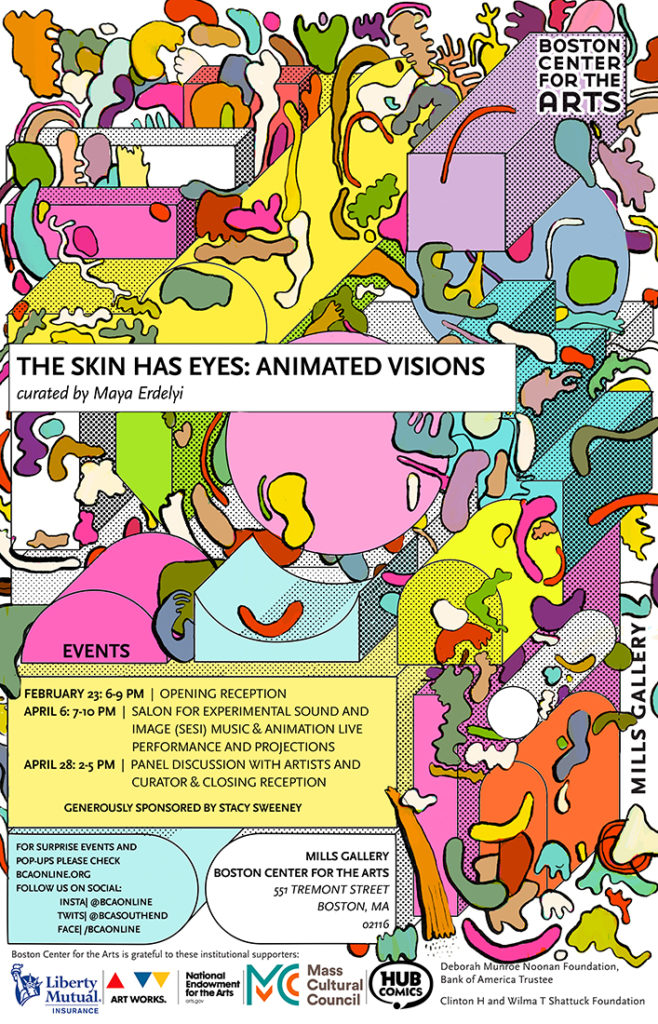 SOUNDCRAFTING WITH WES BUCKLEY
I made a special guest appearance on the latest episode of "Soundcrafting with Wes Buckley," toting my collection of ambiguous objects (of Home Schlocking fame). Watch the 13-minute episode and experience some of the most radicool entertainment on YouTube!
XFEST 2019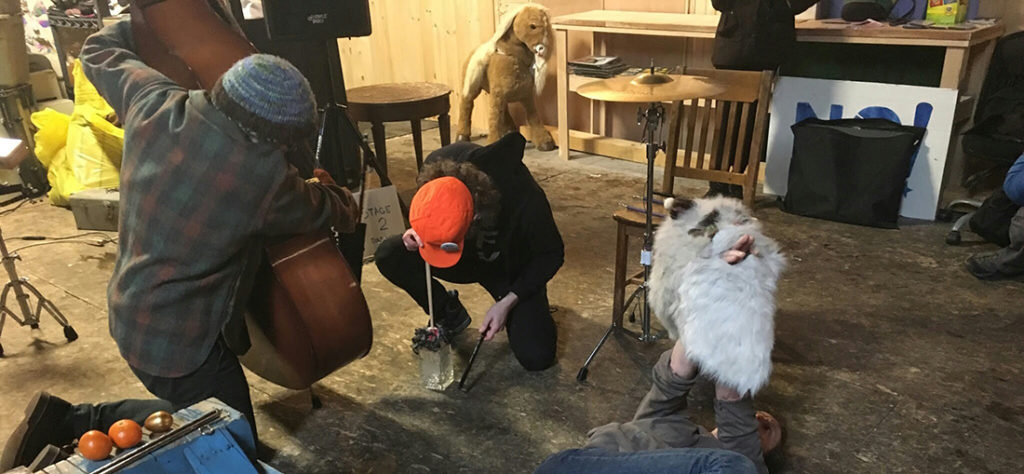 I spent the weekend of February 22-24 at XFest, a "festival of improvised music, movement, and visuals" in Worcester, MA. On Saturday afternoon Music as a Second Language facilitated an improv music workshop with an enthusiastic group of about a dozen participants. We explored using our voice in an ensemble to create harmony, dissonance, melody, texture and mood. We also experimented with incorporating movement into the improvisation, observing how relative location of sound sources can change our overall auditory experience.
As a percussionist I participated in several "improv challenges" where musicians and other performing artists are joined in an ensemble to perform for 15-20-minute improvised sets. Listen to a recording here by Craig Lewis of my "improv challenge" set from Friday night accompanied by Id M Theft Able of Portland, ME and Martin Freeman of Rochester, NY.
The photo above by Rob Kopki is from Sunday afternoon, an ensemble piece curated by Philadelphia-based choreographer Asimina Chremos featuring her dancing alongside my percussion and upright bass by Ian Kovac.
STREET SWEEPER TALISMANS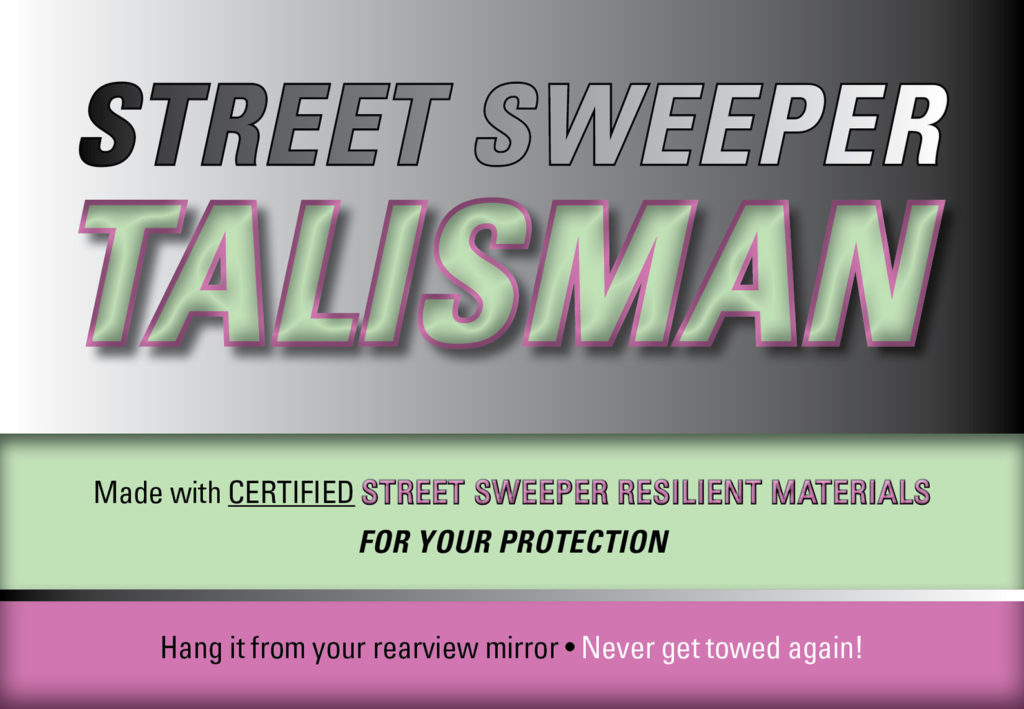 Many thanks to Dan Shea of the Boston Hassle blog for profiling my stick-it-to-the-Man cheap art product, the Street Sweeper Talisman. Read all about it here.
A PEOPLE'S ART HISTORY OF BOSTON
My 24 This Month in Boston Counter-Cultural History articles, and accompanying illustrations by a variety of talented artists, were reformatted as posters for an exhibition at Boston Latin School in the Seevak Room from October 29th to November 2nd. I spent a day at the school in the Seevak room presenting the project and answering questions from students and teachers in History, Art and English classes.
BOSTON ART BOOK FAIR

I tabled under the moniker The Egleston Art Factory Outlet at this annual event at the Cyclorama from October 12th-14th, selling my zines and other printed matter, including works such as Bad Idea and Rockwellian Dystopia.
PEACE & JUSTICE
My freshly-framed artwork Constitution Found Poetry was in a group exhibition on the subject of "Peace & Justice," which opened October 4th at The Arts Center/Gallery at Delaware State University.
MAKE REALITY MAGIC AGAIN
The Art for Friends Sake experimental video series Voyeuges was the subject of a retrospective exhibition this August at The Distillery Gallery. The show included a theatre-style premiere screening of Episode III, a TV video loop of older episodes, a display of various artifacts and behind-the-scenes photos, and an artist statement booklet featuring testimonial quotes from crew members.
UPSTREAM DOWNSTREAM
Our latest Art for Friends Sake production, the video artwork Home Schlocking, is making its public Boston premiere on July 30th on the evening harbor art cruise Upstream Downstream sponsored by Boston Harbor Now's Boston Harbor [Re]creation project.
Home Schlocking's public premiere was held at UnchARTed Gallery in Lowell, MA on July 20th as part of the Anti-Procrastination Festival presented by the Deadline Variety Hour.
STREET SWEEPER TALISMANS @ DEEP THOUGHTS JP
Need some new vinyl? Why not get some spiritual protection for your car while you're at it? A choice selection of Street Sweeper Talismans are for sale at Deep Thoughts JP, the most psychedelic record store in Boston!
XFEST 2018
Music as a Second Language is pleased to present a special workshop at XFest 2018: a festival of improvised music, visuals and movement, 1pm Saturday afternoon, February 24th at Dorchester Art Project, 1486 Dorchester Ave., Dorchester, MA.
All three MSL facilitators are also participating in Performances at the festival on Friday and Saturday nights.
MSL is supported in part by a grant from the Boston Cultural Council, a local agency which is funded by the Mass Cultural Council, and administered by the Mayor's Office of Arts and Culture.
SHHH… EXHIBITION IN MADISON, WISCONSIN
I have three pieces – a poster and two zines – in an upcoming group show accompanying a collection of World War II era propaganda posters. "Shhh…" opens February 3rd, 2018 at Arts + Literature Laboratory in Madison, Wisconsin.
JAMESON & THOMPSON ALUMNI EXHIBITION
My Selections From a Symbology of Struggle posters are included in a group show of artwork by current and former employees of Jameson & Thompson Fine Art Services, 15 Greenview Ave in Jamaica Plain.
LUXURY CONDOS: COMING SOON
My piece titled BARF is now in the front window of Aviary Gallery, 48 South Street in Jamaica Plain, as part of a group show on displacement and gentrification. Opening reception is from 7-10pm, Thursday, 2 November.
PRIVATE SCREENING @ BU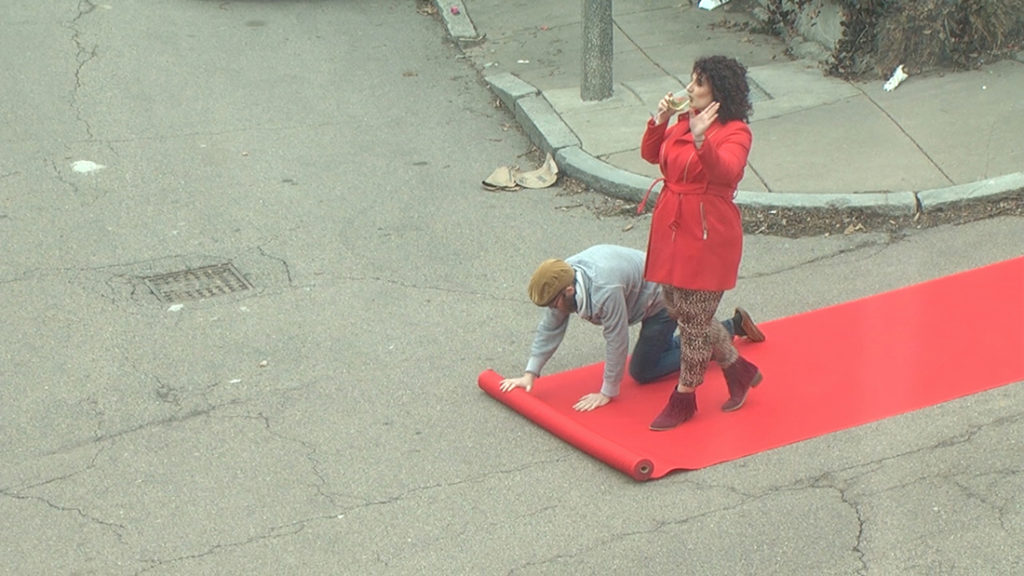 Our experimental video project Voyeuges: Episode II has been selected for inclusion in the exhibition Private Screening at Boston University Art Gallery Annex, 855 Commonwealth Ave. Opening reception is October 19 from 6-8pm. The exhibition runs until December 10.
URBANO ENCOUNTERS
On view until November 11 at Urbano Project, 29 Germania Street in Jamaica Plain, is the retrospective exhibition Urbano Encounters. See inspirational and informative documentation of many past projects including my Freedom Trail on Trial and Mapping Exclusion projects.
NEW ZINELAND, 2017
The Egleston Art Factory Outlet will be open for business at the New Zineland fair on Sunday, 20 August, noon-6pm at the Cambridge Elks Lodge, 55 Bishop Allen Drive. Come get your art on – on the cheap!
TREMORS
My 2016 project Selections From a Symbology of Struggle is being exhibited in New York as part of TREMORS: "a multidisciplinary group show in response to recent political and social upheaval," curated by Monika Lidia.
The opening reception is Thursday, 17 August, 8pm, at Point Green, 260 Java Street in Brooklyn. The show runs until 6 September.
MAKE SHIFT BOSTON
My 6-foot tall Selections From a Symbology of Struggle posters that were installed in the CityPOP Egleston windows are now at Make Shift Boston: "an affordable coworking space and event venue supporting social justice and creative community," at 549 Columbus Avenue in the South End. Thanks to Benji Mauer for the opportunity.
ASCENDING NEIGHBORS TOGETHERNESS
The inaugural interactive public performance by Ascending Neighbors Togetherness will occur at the Egleston Square Peace Garden on Thursday, 10 August 2017, at 8pm.
Experience the magic of making movies, live and in person, with lights, cameras and action!
This is an experimental, improvised performance event, complete with projections, a live band, lights – the works! – and you can become a creative partner in the moment if you are moved to do so.
Come be inspired and entertained by a diverse set of artists improvising with their many talents and gizmos.
FUTURE-A-OKE
The second edition of Future-a-oke, a collaboration between Music as a Second Language and community artist Tim Devin, will be held at the Somerville Arts at the Armory on Thursday, 29 June 2017, 7-9pm.
Bust out your crystal balls and weave some yarns of life-moments to come at this open stage event. Sing us a song of your future, read us a poem of what's up next. Channel your inner Nostradamus — the path ahead is yours for the taking!
CITY POP EGLESTON CLOSES
My yearlong residency at CityPOP Egleston ends on 31 May 2017. The residency supported much creative productivity, fruitful collaborations and community engagement with my artistic practice. Stay tuned for a more in-depth reflection upon the year of working in a shared studio and performance space in Egleston Square.
MARMION FILM FESTIVAL
The Marmion Film Festival was held at Marmion Center for the Arts on 27 May 2017, where Voyeuges Episodes I & II screened along with videos and animations by Kyle Browne, PJ Goodwin, Frank Hegyi, Carly Lieberman, and Rene Dongo. The festival was a smashing success!
GAMES TO CULTIVATE A CREATIVE ATTITUDE
I received a City of Boston grant from their new Opportunity Fund to support my community engagement work at CityPOP Egleston, specifically my Games to Cultivate a Creative Attitude monthly workshop series. In addition to a general audience of community members and artist peers, I held a workshop with fellows and faculty from the nearby Urbano Project to help generate ideas for their Spring semester work involving a Civic Nomadic Sculpture and addressing the programming theme: The Commons / The Other.